Hey everyone, it's Christy! Have you been enjoying the Winter Olympics? My family and I sure have. I love to watch the figure skating events especially. They're all so strong and graceful. And there's nothing quite like watching someone who has worked hard and dedicated their whole lives to their passion earn that medal.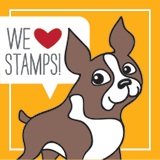 Without further ado, our Dots & Hearts Queen of the Green is:
So many sweet details on this little cutie!
Congratulations, Val!
Please contact Laurel at laurelbeard at gmail dot com within 48 hours to claim your prize.
Now on to our Top Mow-It-Alls:
Lydia
Lisa
Such great cards, ladies!
Congrats to you all!
Please grab your badge from the tab above and display them on your blogs with pride!
Huge thanks to everyone who played along, you all did so great!
We'll see you right back here Monday morning for a brand-new challenge!